Important Disclaimer: This post is not a substitute for medical advice. Please consult with your medical provider(s) for specific recommendations based on your individual needs.
Weighted products promote calm for those with autism, anxiety, sensory processing disorder, PTSD, and any condition that disrupts regulation or a sense of safety. They can be incorporated into virtually every aspect of daily life. There are many wonderful weighted products on the market and there are also some easy, low-cost do-it-yourself (DIY) solutions. Here's a sampling of different kinds of weighted products that are available and/or craftable:
Blankets – provide the ultimate calming experience and can help improve sleep, reduce anxiety, improve sensory processing, boost attention and improve body awareness
Clothing – wearable jackets and vests can provide weight and/or compression that can ease the stress of travel or boost focus when completing tasks that require concentration
Accessories – things like weighted belts, ties, scarves, suspenders, and caps offer fun and discreet options
Lap pads – a portable sensory solution that helps kids, teens and adults feel grounded
Stuffed animals – an adorable and portable sensory solution that can provide soothing proprioceptive input in stressful situations
Objects – toys, exercise equipment, fidgets, pens, pencil toppers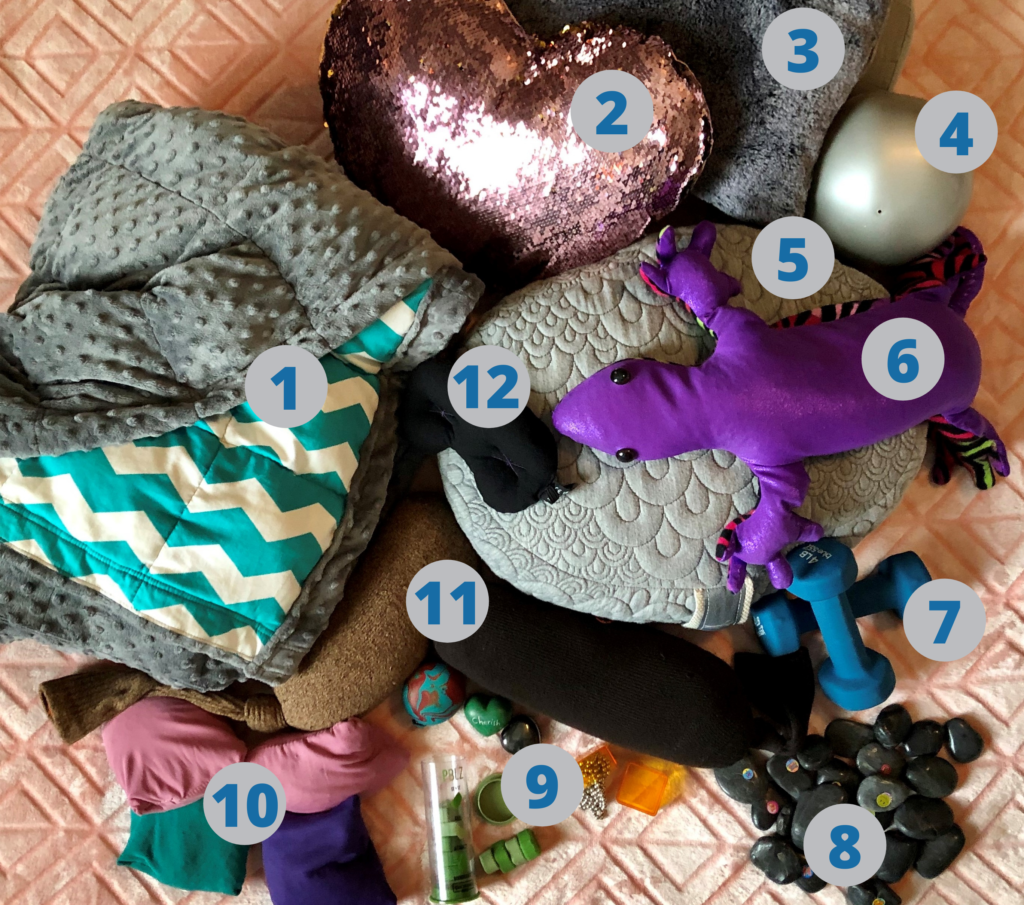 From the author's personal collection:
Guidelines
Frequency and length of use – weighted objects can be used throughout the day but are not intended for sustained use. The general guideline for weighted objects (such as lap pads, blankets, clothing, and accessories) is 1 hour on, 1 hour off.
Amount of weight – all objects should be easily manipulated by the user. If an object is too heavy or used improperly, it could lead to injury or even death. This is especially true for weighted blankets. The general guideline for an appropriately heavy weighted blanket is 10% of the user's body weight (in pounds) plus 1 pound.
Added features
Tactile features – some weighted products, like lap pads, offer extra tactile input, such as built-in fidgets, interesting textures, or vibration. Some double as an activity pad, and others are easily wiped-down for sanitation and cleaning (which is good for shared objects and those used during meals). Keep in mind that less is sometimes more, especially if the user is someone who gets easily overwhelmed or distracted.
Visual features – some weighted products, like toys or lap pads, have special features like interesting patterns, lights, moveable parts, or other eye-catching qualities. This is best for when the user needs to stay in one place but being distracted is not a problem (like waiting at a doctor's office).
Resistance – some products (both weighted and non-weighted), like fidgets, can be squished, pulled, or otherwise manipulated in a way that offers a massage-like variation of deep pressure input. This can be especially helpful for individuals who need a lot of movement input to soothe and calm. Just be sure the object(s) selected are durable enough to withstand heavy use!
Compression – some wearable products (both weighted and non-weighted) provide deep touch pressure through compression. Some products are designed specifically to address the sensory need for deep touch pressure, like weighted compression vests, compression bedsheets, sensory sleeves, and compression undergarments (Fun and Function has a wide selection). There are also several high-quality medical-grade products on the market, such as those used for surgical recovery, splinting, and bandaging. There are several commercially available products as well, usually marketed as shapewear and activewear.
Want some DIY inspiration?
There are lots of great ideas out there. We have a Pinterest board full of DIY sensory tools you can check out, or you can do an internet search for whatever you want to try making + "DIY".